Major step up in the protection of alcohol, Endorsed by large contract win
Fasit is delighted to launch its new, revolutionary bottle cap product into the UK market to protect champagne, sparkling and still wine as well as high-risk spirits from retail theft. The product has already shaken up the French market, having recently replaced the market leader in the country's largest supermarket chain following a competitive tender process.
The unique selling point is that unlike other products on the market the entire security mechanism is not only housed inside the bottle cap but it is also completely inaccessible. By contrast the mechanism on other popular bottle caps currently on the market can be accessed quite easily and as such can be removed quickly and with relative ease.
Kristie Bendall, Managing Director of Fasit commented:
"This new bottle cap product is a major step-up in the protection of high risk, high value wines and spirits and the endorsement of France's largest supermarket chain is testament to this. Not only is it a superior product but with European manufacture we offer short lead times and highly competitive pricing.

Fasit continues to offer a full suite of innovative product protection solutions to protect against retail theft across all product lines."
For further details please contact:
Kristie Bendal - 01453 833 729 / kbendall@fasitsecurity.com
Detailed product specifications:
Internal mechanism with locking button in contact with the bottle neck prevents tampering
External element consists of high quality polycarbonate
Specifically designed for champagne and sparkling wine not to damage the foil
Available in RF/AM/RFID detection
Speed and ease of insertion and removal with just one hand
Attractive design
Comes in two standard sizes – 67mm x 43mm and 59mm x 39mm
July 2015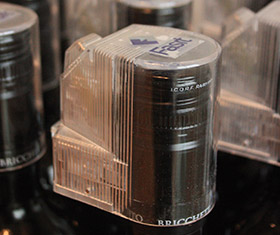 ---
Fasit races into the fast lane
Not known for standing still Fasit, a leading provider of product protection solutions to major retailers and brand owners to prevent retail theft, finished on the winners podium in its first move into motorsport sponsorship. The Fasit sponsored motor, driven by Nick Ponting finished second in last weeks Mazda MX5 Championship at Castle Coombe ractrack, following a closely thought race, which saw Nick storm through the field, from his starting position of 12th and by lap 5 take the lead. Car troubles may have robbed Nick of first place but he held on fiercely to finish second, in his first return to competitive motorsport after a 7 year absence.
Kristie Bendall, Managing Director of Fasit, commented:
"Fasit may not have the budget of Ferrari but it is innovative in its loss prevention products and marketing campaigns and with European sourcing highly competitive on pricing with speedy delivery times."
May 2015
---
Fasit participates at Retail Fraud, London conference
Fasit was delighted to participate at Europe's biggest ever retail fraud and loss prevention show, Retail Fraud, London in April 2015: london.retail-knowledge.com. During its presentation Fasit announced the results of its own commissioned survey with leading retailers into the effectiveness of current loss and product protection methods. The key findings were as follows:
Current loss prevention policies as a whole were judged to be fairly good, scoring an average of 7 out of 10, with ten being the optimum
The most common block to effective loss prevention was deemed to be a lack of an integrated, coherent strategy. Some companies referred to a silo mentality
The effectiveness of product protection solutions scored less well, with an average score of 4 out of 10
The reason most often cited for the poor scores was not the products themselves but inconsistent colleague execution, with store employees either not correctly securing the protection solutions or not deploying them at all
Fasit then went on to discuss its ground breaking and unique source tagging solution to address the risk of poor staff execution. Fasit is currently trialling this with a leading national supermarket chain.
Kristie Bendall, Managing Director of Fasit, commented:
"Fasit's participation at the UK's pre-eminent event for loss prevention, Retail Fraud, London, is testament to our ambition to be the partner of choice for retailers and major brand owners for all of their shrink needs. Fasit offers high quality, innovative loss prevention solutions across all at risk product categories and with European manufacture, swift lead times and competitive pricing."
April 2015
---
First ever SD card safer trial with major UK retailer
Fasit is delighted to announce the first ever UK trial of its new and innovative SD and USB card safer with a leading national retailer. The safer is a highly effective loss prevention solution not just for SD and USB cards but also for securing batteries. The safer's ergonomic and compact patented design maximises shelf space efficiency and integrates seamlessly into the packaging of the product, thereby maximising visual merchandising, while providing a high degree of retail theft prevention.
Kristie Bendall, Managing Director of Fasit commented:
"This is another prime example of Fasit providing innovative and cutting edge loss prevention solutions to leading UK retailers across. Additionally our European sourcing facilitates swift delivery and replenishment."
February 2015
---
Contract expansion with leading supermarket chain
Fasit is delighted to announce a major extension to its on-going work with a leading UK supermarket chain to provide a loss prevention solution for fast growing but high risk and high value diet products. Fasit's range of high quality safers, constructed from polycarbonate material for maximum strength and transparency and sourced from Europe allowed the rollout across the entire estate to be completed within just 21 days.
Kristie Bendall, Managing Director of Fasit, commented:
"This contract win demonstrates the quality of our safers and the advantages of short lead times, which only European supply can deliver. Our work with this client now covers the protection of DVDs and CDs, skincare, razors/blades, oral care, pregnancy kits, skincare and beauty and now dietary products and is testament to Fasit's ability to deliver first class customer service and a full range of loss prevention solutions."
October 2014
---
Wilko client win
Fasit has won the competitive tender to provide a loss prevention solution for Wilko, a leading discount retailer, for its fragrance ranges across its UK estate of c380 retail outlets. Working with Wilko our team were able to select just five safer cases, one of which was a new customised safer designed specifically for the client, of different dimensions to cover c90% of all fragrance ranges. Given the often exotic and varied shapes and sizes of fragrance packaging this was a real achievement.
Kristie Bendall, Managing Director of Fasit, commented:
"This is a great new client win for Fasit of another tier one, national UK retailer and is further evidence of our unrivalled loss prevention product offering for fragrance, health & beauty and our ability to customise solutions to our client's individual needs.
Our safer cases are second to none in quality, easy to operate, with a sleek and clean design and unlike some others work with universal detachers. We look forward to working with Wilko on this and other mutually beneficial projects in the future."
August 2014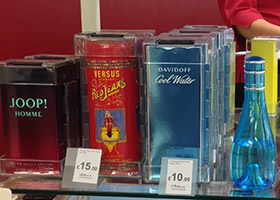 ---
Fasit announce record sales and profits for 2013
We are delighted to report a record year for both sales and profits for the year ended 31 December 2013. Our sales have increased 100% since 2009, while profits have grown 200% over the same period, reflecting the operational leverage in the business. The year-on-year growth in 2013 was driven primarily by the successful launch of our first in-house designed product, the Safer Shell® (Patent pending: GB 1402808.8).
Kristie Bendall, Managing Director of Fasit, commented:
"The successful launch of our first, in-house designed loss prevention product marks a pivotal moment in the evolution of the business and the swift take-up by a major UK retailer is testament to its innovative design and ability to optimise open sales opportunities.
Fasit has had a very successful 2013 and with recent investment in marketing, sales and further extensions to our supplier base, we look forward to building on this momentum in the years ahead."
July 2014
---
Building intellectual property
We have applied for a patent for the Safer Shell®, our first in-house designed product (Patent pending GB 1402808.8). Linked to this we have filed a European Registered Design Application for the Safer Shell® to provide protection for our intellectual property throughout the region.
Separately, we have successfully registered the term "Safer Shell®" as a trade mark, under the classes: Safety and security apparatus and equipment, Packaging materials and Packaging containers of plastic in the UK.
Kristie Bendall, Managing Director of Fasit, commentated:
"The Safer Shell® is a fantastic example of where we identified a gap in the loss prevention market and created a neat solution, offering space efficient security which maintains shelf appeal and protects the merchandise from customer theft. It is visually attractive, compared with, for example, keeper boxes, and reusable, unlike the traditional clam shell packaging.
In line with the Fasit growth strategy we will continue to develop and protect our own intellectual property, so that we can provide our customers with a full suite of best in class loss prevention solutions, created by Fasit and other leading suppliers."
May 2014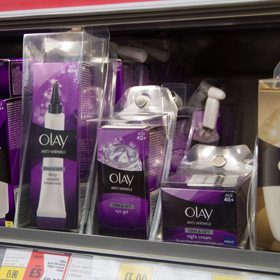 ---
Toys R Us contract win
We are delighted to announce an important contract win with Toys R Us, Britain's leading Family Leisure, Baby Care and Toy Megastore, for the supply of safers. We met with Toys R Us in 2013 as they were suffering major losses on a range of children's educational interactive computer software. Following an extensive trial, which in one store saw the complete elimination of all losses on the product range, an agreement was reached to roll out the safers across the UK estate.
Kristie Bendall, Managing Director of Fasit, commented:
"This is a great client win for Fasit and highlights the wide range of product categories for which we now provide cost effective loss prevention solutions. This win is also further evidence of the recent momentum that continues to build in our business."
A spokesperson for Toys R Us commented:
"We were pleased with the trial results which saw a reduction in shrink and an increase in sales opportunities from increased stock on open display. The rollout across the estate by Fasit went smoothly and the safers have proved their worth."
March 2014